ECG (Heart rate)Pajamas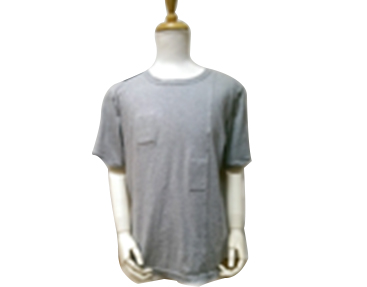 To record ECG in sleep without sacrificing comfort, Ming Young Biomedical Corporation has developed the ECG pajamas, in which eight electrodes with switches are installed at the sites where human body presses on bed. Inevitable only two electrodes of the eight would be pressed no matter what posture the sleeper lies and the pressed switches are turned on so that the ECG obtained by the pressed electrodes are transmitted to the control box. The ECG waveforms obtained by different sites are quite different so that it can be easily distinguished. Thus, ECG as well as sleep posture can be recorded at the same time.
The structure of our patented electrode with switch is shown below.

When not pressed, both conductors (122 and 112) are not contacted and then no signal is transmitted. When pressed, ECG signal picked by the electrode 13 is transmitted through both conductors. All materials shown above is frequently used textile and accessories, therefore they give comfort as well as good quality ECG signal.
Click to watch video demonstration
The ECG pajamas is loose to be comfort, while it can still obtain ECG no matter how the wear sleeps. It can also detect the activity of the wear by its accelerometer. By the pajamas, the ECG and the activity of the wearer during sleep can be recorded for further analysis without infringe his or her privacy.
Recommended size for various length of body
| | | | | | |
| --- | --- | --- | --- | --- | --- |
| Size(cm) | S | M | L | XL | XXL |
| Shoulder | 40.5 | 42.5 | 44.5 | 46.5 | 48.5 |
| Length | 67 | 69 | 71 | 73 | 73 |
The pajamas is granted US patent titled "Electronic device and method of using the same".